Exploding in the second half of 2021, Blockchain/NFT Game (GameFi) has created an extremely strong investment wave of up to billions of USD from large and small investors around the world.
In the future, GameFi hopes to become a quality entertainment technology industry, and at the same time a safe, transparent, and sustainable investment channel for all gaming participants in particular and invest in GameFi in general.
"Although old but new" The "Sancti Quest on Frontline" (SQF) realizes the dream of outstanding innovation and creativity of the NFT Game platform
In some developed countries and especially developed countries, the entertainment industry is an important economic sector, a major source of income, sometimes more than some other industries, providing jobs for people, and more importantly, this is a modern industry, always innovating by taking advantage of the super-fast development of technologies that are innovating day by day.
The entertainment industry is promising to bring a lot of changes in people's lives. Industry 4.0 and then 5.0 will create a completely different society, and accordingly, the institutions and methods of social organization will have to change accordingly.
Accordingly, in the process of revolutionizing Blockchain technology into widespread application in life, SQF brings the spirit of entrepreneurship and gives entertainment and money-making value to investors from a professional team with extensive knowledge – The "Sancti Quest on Frontline" (SQF) game team is made up of excellent individuals. We used to be on the development teams for many major games in Europe. In 2020, we saw a new era in the gaming industry begin to emerge. At that time, a few games combined with blockchain technology were formed. People called these games Gameblockchain (game+blockchain), or GameFi (game+finance), because playing games could make money. However, accessing these titles was too new and risky. We don't have the confidence to pursue it yet.
What is The "Sancti Quest on Frontline" (SQF)? What sets new trends in the world of NFT Games?
"Sancti Quest on Frontline" is a GameFi project developed on the Binance Smart Chain (BSC) platform, with a different economic structure than the vast majority of existing GameFi projects on the BSC. The most special thing is the mission to bring the game back to its true nature. Whether it's a regular game or GameFi, the most important aspect is still enjoyment and amusement for the players. Players can, of course, earn money in the same way they can in other games. "Sancti Quest on Frontline" is supposed to usher in a new age for both the GameFi and Crypto markets.
As of February 2022, GameFi's total market capitalization has risen to $55.38 billion. By 2025, blockchain gaming is predicted to be worth $50 billion, growing ten times faster than traditional gaming. The blockchain gaming environment is rapidly evolving. GameFi is one of the trendiest topics in crypto right now, with new developments seen at an accelerating rate thanks to promising gameplay and the economic incentives that come with it.
Along with the extremely fast growth of the GameFi market in recent years, many players have made a lot of money playing games, and other games are also being released more and more frequently as a result. But the quality of the game does not go with the quantity. Players are only interested in earning money, and publishers are only interested in producing games as quickly as possible. As a result, unsustainable "Click to Earn" games sprouted up in mass, destroying the confidence of the gaming community.
What makes SQF different?
1. Game Modes
Sancti Quest on Frontline is a turn-base strategy game along with fighting techniques. On the battlefield, warriors fight together with other opponents or legendary monsters to protect the peace of their world.
"Sancti Quest on Frontline" in addition to the basic modes that a fighting shooting game must have, PVE (player versus environment) and PVP (player versus player) modes. In "Sancti Quest on Frontline", there are many other attractive modes that no other game has developed by the professional game-making team.
It can be said that the mode of betting with opponents to compete with each other is more attractive. A mode to build houses for warriors to live in, or a marriage mode for couples to get special passes when fighting together.
With three special game mechanics, players can experience all the battlefields and different levels of conquering emotions.
– Adventure
This is the most basic mode of "Sancti Quest on Frontline," in which players fight monsters in various lands, learn more about Skyland's myths, and possibly own treasures from that land.
– Party dungeon
Difficult mode requires you to have a team with exceptional combat abilities to have a chance to pass each level.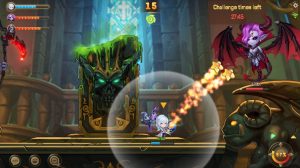 In return, the rewards in this mode are extremely attractive; they are all legendary treasures guarded by monsters.
– Rank (solo/team)
Rank (solo/team) is the most competitive mode, and also the most attractive mode for players of any game who want to reach the top of the rank.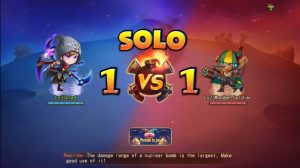 With the ranked match mode, the player will find a random match, but the game will arrange the following pairs of matches for the closest equal fighting force to create fairness for each game.
There will be 2 forms of rank climbing for players to freely choose: either playing in a team or playing solo. Depending on their desires and preferences, players can choose for themselves a suitable form of battle for themselve.
2. Limited NFTs
Entering any adventure requires the acquisition of the necessary equipment  to deal with the difficulties and challenges on your way. And this is the equipment you can choose from at "Sancti Quest on Frontline". With a warehouse of diverse, eye-catching, and powerful equipment. If you're lucky, you might be able to grab legendary treasures with ultimate power.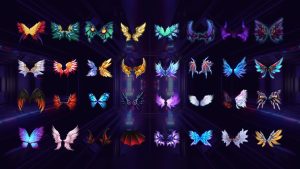 Limited NFTs: Weapons, outfits, accessories, and pet items are available. These kinds of NFTs are limited in the number of ways in which players store value when they upgrade levels day by day. NFTs can be exchanged, bought, or sold in the marketplace.
Limited NFTs are defined by 4 different rarities: common, rare, epic, and legendary. The more rare a weapon is the higher your points will soar. Consists of: Weapons, Outfits, Accessories and Pets.
3. Free to Play
To increase experience points as well as facilitate all subjects' experiences. "Santi Quest on Frontline" creates a free-to-play mechanism. In other words, the mechanics will be like those of a normal traditional game. But some game features are locked.
The free-to-play feature was created with the sole purpose of allowing players to experience it before deciding to invest in the game.
In-game Economy
About the main Token of the game One dilemma of Gamefi projects is to control the inflation of games. Tokens, NFTs, and other items are all susceptible to inflation. As a result, the project's value diminishes over time. To tackle this issue, the game's token has created a single token system rather than the two tokens (main token and reward token) used by other projects. The NFTs, not the token, is the fundamental element in this project that stores the project's value. The game's economy centers around NFTs, and NFTs will be the location where value is kept. It can be said that NFTs are the soul of the project.
Introduction to the game's NFTs system This project contains a variety of NFTs that you can use to strengthen your characters. In general, there are two types of NFTs:
• Limited NFTs (non-fungible token): Weapons, outfits, accessories, and pet items are available. These kinds of NFTs are limited in the number of ways in which players store value when they upgrade levels day by day. In the marketplace, NFTs can be exchanged, bought, or sold.
• Consumable NFTs (non-fungible token) includes various types of stones, upgraded materials, cards, and so on. These are types of consumable NFTs, which means that after being used, they will be directly burned. These NFTs are still exchanged in the marketplace like limited NFTs. Consumable NFTs are materials that people can use to increase the value of the limited NFTs that they own.
Overview of SQF Token
Name: Santi Quest on Frontline
Token name: SQF
Protocol: BEP20
Total supply: 333,333,333,333
Decimals: 18
Distributed: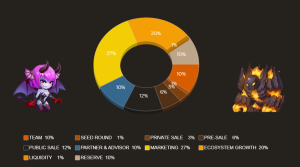 Token Release Schedule
| | | | |
| --- | --- | --- | --- |
| Allocation | Vesting | Percent | Total Supply |
| Team | Unlock for 24 months | 10% | 33,333,333,333.30 |
| Seed Round | Unlock 3% on purchase. Unlock 15% at TGE. Pay linearly for the next 7 months. | 1% | 3,333,333,333.33 |
| Private Sale | Unlock 3% on purchase. Unlock 6% at TGE. Pay linearly for the next 7 months. | 3% | 9,999,999,999.99 |
| Pre-Sale | Unlock 3% on purchase. Unlock 7% at TGE. Pay linearly for the next 6 months. | 6% | 19,999,999,999.98 |
| Public Sale | TGE 25% Pay linearly for the next 4 months. | 12% | 39,999,999,999.96 |
| Partner & Advisor | Partner & Advisor: 6% TGE,pay linearly for next 10 months. | 10% | 33,333,333,333.30 |
| Marketing | Unlock 10% of which 5% Ref reward. Unlock 10% at TGE. Pay linearly next 10 months. | 27.20% | 90,666,666,666 |
| Ecosystem Growth | Unlock for 24 months | 20% | 66,666,666,666.60 |
| Reserve | 15% unlock at TGE, 12 months linear unlock | 10% | 33,333,333,333.30 |
| Liquidity |   | 0.80% | 2,666,666,666 |
Token Usecase
Payment: Use SQF tokens to pay, buy and sell NFT items of the game
Farming/Staking: Tokens can be used to earn rare NFTs through the game's staking mechanism
Events: SQF tokens can be used to participate in some in-game events with extremely attractive rewards.
The SQF ecosystem later expands to many more interesting things. Accordingly, the SQF token may have more applications in the future.
ROADMAP
Phase 1: Q3/2021
• Ideas
• Concepts
• Implementation
Phase 2: Q4/2021
• Finish Whitepaper v1.0
• Setup Foundation and Legal Structure
• Dev-Team Building
Phase 3: Q1/2022
• Technical Architecture of the Platform
• Build items
• Main Gaming Framework Development
• NFT Contract Development
• Official Website & Marketplace Establishment
Phase 4: Q2/2022
• Token burning
• Testing In-game battle function
• Launching Beta Web Version (est. end of April)
• Launching Beta Android Version (est. end of April)
• BEP20 Token contract & NFT Contract Audit
• Seed Round (est. middle of April)
• Testing Marketplace
• Guide features for Game
• Increase influencer onboarding
• Private Sale (est. begin of May)
• Pre-Sale (est. middle of May)
• Public Sale (est. begin of June)
• Launching Beta IOS Version (est. begin of June)
• List on PancakeSwap, Coingecko
Phase 5: Q3/2023
• New Official Website
• Optimize NFT contract
• Official Launching Game (est. begin of July)
• Each character in the game has their own story.
• Release new official version on Web, Android and IOS
• Expand ecosystem activities with partners
• Token burning
• Phase 6: Q4/2022
• Research on 3D game mainet
• Conferences with game community to develop SQF game in accordance with DAOs (Decentralized Autonomous Organization)
SQF has a special anti-inflation mechanism, attractive gameplay, eye-catching game graphics, and a deep storyline. Although it is a "child" launched later, it is not too late to become a new revolution in the NFT Game industry in particular and Blockchain in general. It promises to bring you the best experience when playing.
Follow us on official social media to see the latest information about the project.
Website | Announcement | Community | Twitter | Youtube | Discord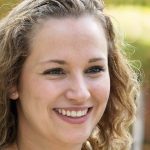 I have been working as a Crypto author for the past 5 years and have gained a lot of experience in the field. I have written many articles on Cryptocurrency and have also spoken at various conferences. I am very passionate about Cryptocurrency and I believe that it holds a bright future. I am always happy to help people learn more about this exciting new technology.